The Art Galleries at TCU
Highlights for the upcoming Fall 2023 season include:
In Passage artist and TCU Professor of Art Chris Powell explores the concept of movement and the association of memory in clay and found objects, Moudy Gallery, August 24 – September 14. This exhibition is part of Movement in Three parts, a multi-venue project by Powell across Fort Worth, including Blind Alley and Moncrief Cancer Institute Art Gallery.
In Passing: Ann Le & Trinh Mai, Fort Worth Contemporary Arts, August 30 – September 30. An exhibition featuring new work by second-generation Vietnamese American women, Ann Le and Trinh Mai, organized by guest curator Kim Phan Nguyễn (TCU MA Art History, 2021). Including photography, sculpture, video and installation, this exhibition highlights the migrant experience through the lens of Vietnamese Americans.
New photographs by Gabi Magaly, Moudy Gallery, September 21 – October 19.
Pleasure & Protest, Fort Worth Contemporary Arts, October 13 – November 17. A group show which presents figure painting as a sensory and political engagement through hybrid practices. Artists include: Jackie Gendel, Lovie Olivia, Yana Payusova, Alexis Pye & Keer Tanchak. Connecting conceptual threads across the exhibition suggest artists are exploring or re-situating domestic craft and decorative art practices in relation to painting the figure. The artists employ strategies of pattern, gesture, repetition and layering through a range of materials and methods including watercolor, fresco-secco, wallpaper, clay and embroidery. Their works celebrate handwork and revel in the pleasures of tactile surfaces, decoration and ornamentation.
And key exhibitions of new student work in Moudy Gallery:
Honors Studio/Art Education, October 25 – November 1
Honors Graphic Design, November 6 – 11
BFA Studio Art Thesis Exhibition, November 16 – 30
BFA Graphic Design Thesis Exhibition, Dec 4 – 8
Check out our Upcoming Events, and follow us on social media for regular updates.
To revisit recent exhibitions and events, please use the accordion tabs below.
January 20 – February 18, 2023: Criss Cross Applesauce: MFA Candidacy Exhibition 2023
The 2023 MFA Candidacy Exhibition featured the work of second year Master's of Fine Arts Candidates Max Marshall and Lauren Walker. With playful intention, the work in this exhibition explored the power of constructed narratives and the spaces that act as their settings through mediums of sculpture, painting, and drawing.
Max Marshall received her BFA in Painting and Drawing with a second major in Art History, from The University of North Texas in 2015. In her current body of work, she examines the origins and creators of popularized American folklore which historically cowboys as individualistic and stoic seekers of justice. By fabricating her tall tale of a species of giant Cowboys and setting this revised origin story within the guise of roadside museums and highway attractions, Max creates a stage on which the popular Cowboy archetype can be critiqued as similarly flawed or absurd. With tongue in cheek, the resulting work asks questions of how, who constructed it and to what depth does it resound within our modern culture?
Lauren Walker's current body of work explores the dollhouse as it relates to her personal experiences with femininity, sexuality, shared domestic space and make-believe. Through painting and ceramics, the resulting work uses playful gestures to elicit a queer narrative, disrupting the notion of idealized space. She invites the viewer to approach the work with their personal experiences of the domestic in mind, with questions of scale, materiality, and color palette shaping this ongoing research.  Lauren is a Fort Worth native and received her BFA in Painting from Stephen F. Austin State University.
Read Glasstire's review of the show by Jessica Fuentes here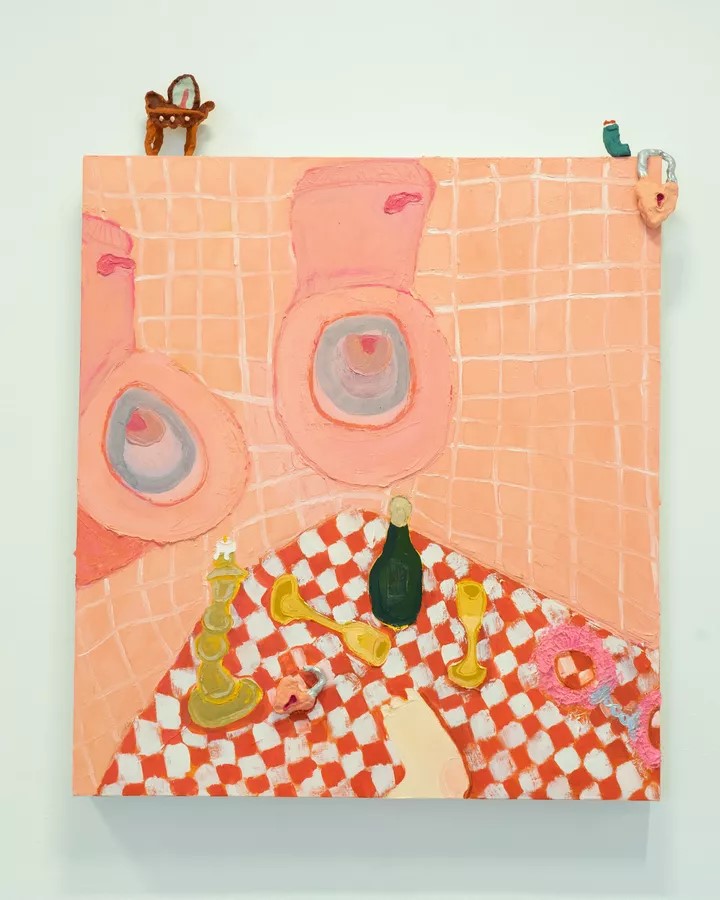 March 24 – May 6, 2023: 150 years / 150 Artists
In conjunction with TCU's sesquicentennial, the School of Art hosted a group exhibition featuring the work of 150 artists in all media accompanied by an exhibition publication that explored the legacy of the visual arts at TCU. Artists featured included current TCU student and faculty artists, and alumni students and faculty artists. Selections of works by local and regional artists from the TCU permanent collection were also included. Click here to read the "150 Years / 150 Artists" publication.
Artists included: Fernando Alvarez, Francisco Josue Alvarado Araujo, Sheryl Anaya, Kalee Appleton, Jon Ashcraft, Randy Bacon, Greg Bahr, Deedra Baker, Clint Bargers, Jesse Morgan Barnett, Maria Barrientos, Stephen Battle, Iris Bechtol, Carol Benson, Jayne Hinds Bidaut, Michael Blair, Christopher Blay, Jashley Boatwright, Rosalyn Bodycomb, Chris Bond, Nick Bontrager, Rachel Bounds, Bradly Brown, Dario Bucheli, Meredith Cawley, Janet Chaffee, Kristen Cochran, David E. Conn, Lynné Bowman Cravens, Blakely Dadson, Brian K. Dickson Jr., Lindsey Dunnagan, Simeen Farhat, Lauren Fleniken, Sierra Forrester, Hayley Fowler, Julia Franklin, Mckee Frazior, John Frost, Adam Fung, Jennifer Gassiraro, Harry Geffert, Shelley R. Gipson, Ryan Goolsby, Sam Granado, JT Grant, Daniel Gray, Holly D. Gray, Jennifer Guest, Joe Guy, Linda Guy, Randy Hall, Courtney Hamilton, Timothy Harding, Susan Harrington, Marshall Harris, John Hartley, Alyssa  Hawkins, Terry Hays, Nathan Hayes, Jack Hein, Candace Hicks, Erin Hill, Barbara Horlander, Etty Horowitz, Sarah Hunt, Clay Hurt, William Jenkins, Dan Jian, David Johnson, Fernando Johnson, Bella Pinedo, Julie Jung, Michelle Justice, Patrick Kelly, Shin Kitahara, Tuba Koymen, Hiroko Kubo, Dick Lane, Meg Langhorne, Duoc Le, Casey Leone, Austin Lewis, Nathan Little, Rachel Livedalen, Benjamin Loftis, Billi London-Gray, Alejandra Lopez, Layla Luna, Davion Mack, Max Marshall, Sydney Martin, Todd McCollister, Elizabeth McLaurin, Margaret Meehan, JoAnn Mulroy, Mary Nangah, Natalie Neale, Devon Nowlin, Adeniyi Olagunju, Madi Ortega, Sally Packard, Harmony Padgett, Dhananjaya "DJ" Perera,  Kacie Perez, Jack Plummer, Chris Powell, Hector Ramirez, Ryder Richards, Raul Rodriguez, Eli Ruhala, Greg Ruppe, Winter Rusiloski, Kiran Sattar, Cam Schoepp, Thomas R. Seawell, Kay Seedig, Luther Smith, Susan Smith, Tiffany Wolf Smith, Lori Dolan Solley, Stefani Job Spears, Ann Stautberg, Ashley Stecenko, Adelynn Strong, Terry Suprean, Keer Tanchak, Jason Thing, Corrie Thompson, Terri Thornton, Adrianna Touch, Audrey Travis, Mckie Trotter, Janet Tyson, Bernardo Vallarino, Charles Varner, Lauren Walker, Andy Warhol, Ron Watson, Steve Watson, Karen Weinman, Ashley Whitt, Chris Wicker, Angilee Wilkerson, Alden Williams, Sydney Williams, Zeke Williams, Jim Woodson, Lillian Young & Samuel P. Ziegler
February 8 – 14 : Annual Graphic Design Juried Exhibition
February 20 – 25: Annual Juried Student Exhibition – juror Yana Payusova
March 2 – 8: MFA Thesis Exhibition – Sheryl Anaya
March 20 – 25: MFA Thesis Exhibition – Benjamin Loftis
March 30 – April 5: MFA Thesis Exhibition – Madi Ortega
April 10 – 15: MFA Thesis Exhibition – Sarah Theurer Hunt
April 19 – 27: BFA Studio Art Thesis Exhibition
May 1 – 5: BFA Graphic Design Thesis Exhibition
Aug 24 – Oct 1, 2022: WAKE – Ian Weaver
Ian Weaver's artistic practice is interdisciplinary in nature, and he uses a variety of media including drawing, collage, assemblage, sculpture, photography and film to explore memory and consider how individuals and communities construct their own identities. In reference to Christina Sharpe's writings on representations of Black life, the title of Weaver's exhibition responds to multiple understandings of "wake" – the temporary and ephemeral path behind a boat, a social ritual associated with funerals and a celebration of the dead, and the idea of awakening or becoming conscious. For his exhibition at Fort Worth Contemporary Arts Weaver responded to "wake" with a selection of objects that collectively weave together intersecting concerns of memory and identity. Referencing historic maritime culture, his new work included the skeletal frame of a boat hull, an anchor, and part of a lighthouse. He also included family photographic portraiture and a film that documents the wake of a boat on the Little Calumet River, a location that was once an important part of the Underground railroad on the South Side of Chicago.
Oct 19 – Nov 18, 2022: Yours, in Extraction: Robyn Woolston
Robyn Woolston's socially-engaged practice elicits site-specific responses to environmental concerns and human agency. Her work across installation, photography, moving image and print explores concerns ranging from economic imperatives and government policy to ecological grief and the psychological effects of the climate crisis. For the Art Galleries at TCU Woolston presented a new film and discursive objects resulting from ideas and materials gathered during two residency periods in Fort Worth (November 2019 and January 2022) and through collaboration with TCU's Department of Psychology and BRIT, the Botanical Research Institute of Texas. View Woolston's film visit here
September 1 – 22: BRB: Kristen Cochran
September 29 – October 20: Faculty Exhibition
October 27 – November 2: Honors Studio / Art Education
November 7 – 11: Honors Graphic Design
November 16 – 30: BFA Studio Art Thesis Exhibition
December 5 – 9: BFA Graphic Design Thesis Exhibition
---
About The Art Galleries at TCU
The Art Galleries at TCU are a dynamic cultural resource presenting unique exhibitions and projects by inspiring contemporary artists. Through a rigorous curatorial process of research, creative collaboration and interdisciplinary partnerships, the galleries showcase excellent artistic practice and high-quality art, while supporting experimentation and innovation. To support students and faculty, the galleries act as a catalyst for critical dialogue and provide a vital avenue for professional development through investigation of contemporary art practices.
Moudy Gallery
Located in the same building that houses the School of Art, Moudy Gallery showcases student work, including exhibitions by undergraduates and MFA students. This 900-square-foot space also functions as a responsive place for one-off or pop-up projects that students and faculty develop. TCU regularly shows its support for local professional artists by providing a collaborative environment in the Moudy Gallery as a testing ground for work-in-progress. Exhibitions or events of this kind help artists get involved in numerous ways and significantly benefit TCU students by enabling them to develop their professional networks with the local creative community.
Fort Worth Contemporary Arts
Fort Worth Contemporary Arts (FWCA) is a satellite exhibition space located a few blocks from the School of Art, on the edge of the TCU campus. Situated on West Berry Street, a busy urban corridor, this 2,000-square-foot gallery is TCU's public-facing art venue. It offers a great opportunity for students, faculty, staff and alumni to engage with the Dallas-Fort Worth community.
At FWCA, the curatorial focus revolves around national and international artists at different stages of their career. It often includes work that has never been shown in Texas before or that is made on-site during a residency period. This concentration means students have close access to high-quality art and can critically engage with artists on a one-on-one basis in the gallery.
Fort Worth Contemporary Arts is located at 2900 W. Berry St. on the edge of the TCU Campus, Fort Worth, TX 76109.
View current and past exhibitions on Artsy.
Opportunities for Students
Students can volunteer or intern as gallery attendants. Interns are typically assigned responsibilities and research, such as overseeing social media for the galleries and researching artists' work for future exhibition projects.
In addition, graduate students are assigned to the galleries each semester and complete weekly tasks including installation/deinstallation of exhibitions, delivery of live events and maintenance of the permanent art collection.
The Art Galleries at TCU are home to exhibitions from regional and international artists, students, faculty and alumni. To see the upcoming exhibitions in the galleries, please visit our event calendar.
Locations and Hours
Moudy Gallery
2805 S. University Drive, Fort Worth, TX 76129
Monday-Friday: 11 a.m.-4 p.m.
Saturday: 1-4 p.m. and by appointment
Fort Worth Contemporary Arts
2900 W. Berry, Fort Worth, TX 76109
Wednesday-Saturday: 12-5 p.m., and by appointment
Mailing address
The Art Galleries at TCU
School of Art
TCU Box 298000
Fort Worth, TX 76129
Contact Us
For more information about the Art Galleries at TCU, please contact theartgalleries@tcu.edu  and 817-257-2588.
Photo: Post-Processing by Cisco Merel at Fort Worth Contemporary Arts, 2017
Photo on homepage: Rogue Objects by JJ Peet and Rob Rhee at Fort Worth Contemporary Arts, 2016
Photo on sidebar: Recording Studio A4 by Sebastiaan Bremer at Fort Worth Contemporary Arts, 2016